How to set up Customer Reviews for Google Shopping
Since the introduction of product ratings, Google have been trying to find ways to help gather product feedback for websites and businesses to allow relevant traffic to get to these sites more easily. To do so, Google has increased the minimum threshold of reviews businesses and websites must accumulate before they can start showing product ratings. In the past this threshold was as little as 30 reviews, however now businesses and websites need to acquire at least 150 before any product rating can be shown on Google.

What are Product Ratings?
Product ratings are quite simply a rating system for businesses, websites and products, sometimes given in a five-star format, which Google has created to enable users to quickly assess the quality of the item/product they are searching for. The rating system allow users to choose the best product at a glance within the Google Shopping channel. Put simply: the higher the product rating of a page, the higher it will appear on Google Search.
It should be noted that not all products will receive the five star treatment as Google determines which products are best suited to this type of rating system.
How do you get Product Ratings?
Product ratings can be achieved via reviews of the product, website and/or business on the search engine. To do this you need to set up a Merchant Centre account and upload your review feed to it. At this stage you will need at least 50 reviews across all your products to set up an account. You can also join Google Customer Reviews to gather more review data for your products.
For those with particularly good reviews and ratings, seller rating extensions can be made which involve Google gathering seller ratings of your products from other reputable sources to further enhance user experience and get your product up there at the top of the page. One major change recently has been that seller ratings now appear in all countries, to fit in line with Google's international appeal and user service, so keep this in mind if you are trying to focus on UK sales or want to expand globally.
Independent reviewing websites are a key part of this process too and Google often uses sites such as Feedback Company, PowerReviews and Reviews.co.uk. For a full list of Google's most popular independent reviewers follow the link below:
https://support.google.com/adwords/answer/2375474#review
Of course, if you want product ratings on your website/business/product, don't forget you will need 150 reviews before Google will consider advertising your ratings and at least 10 of these have to be in the users' Google interface language.
Setting up Customer Reviews
Google Shopping advertisers upload products via Google Merchants and it is within this system that you can begin the Google Customer review program set up. Using the black vertical navigation panel on the left hand side, click on 'customer reviews':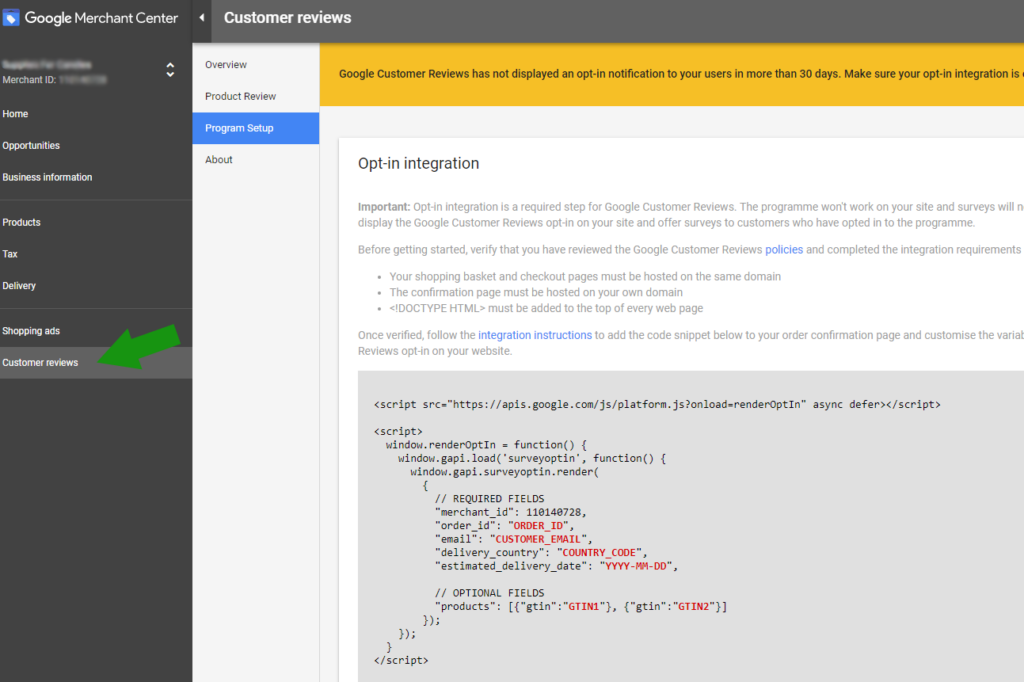 Click on 'Program Set up' and maxmise 'Opt-in integration'. Here you will get integration instructions for adding the code snippet to enable Google Customer Reviews to your website. Note that merchant center ID, order ID (unique ID for the order), customer email address, country code and estimated delivery all must be dynamically populated into the code snippet (fields highlighted in red below).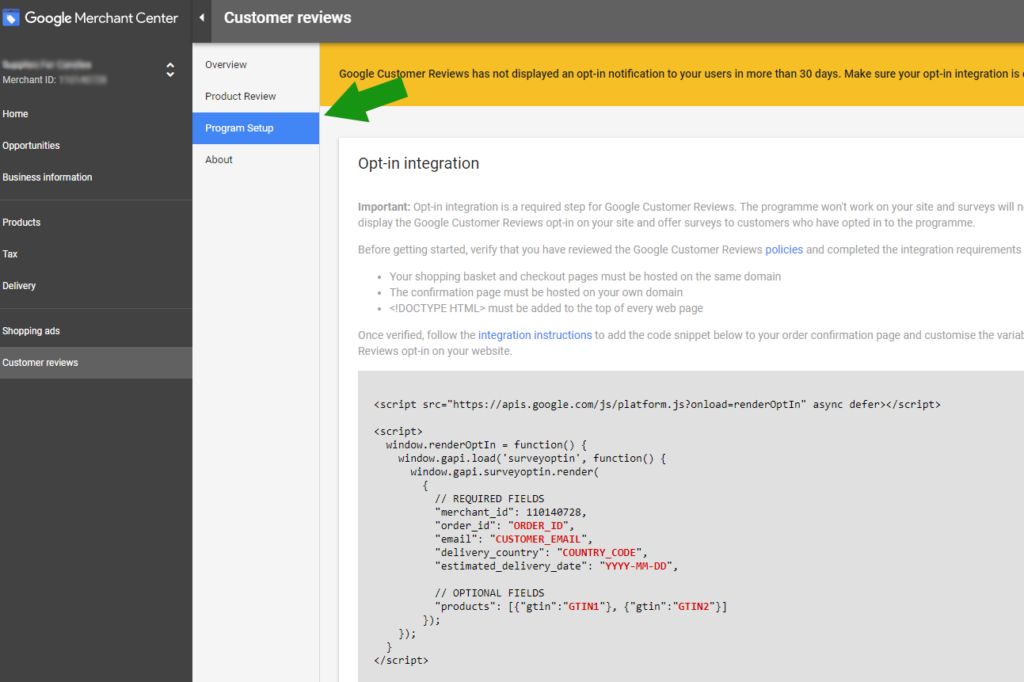 Use the (optional) Google Customer Reviews badge as a nice trust factor for consumers. Simply get your code snippet from the expandable 'badge integration' area within 'Program Setup' and insert the code just before the closing <body> tag of the page in question.

Duncan Colman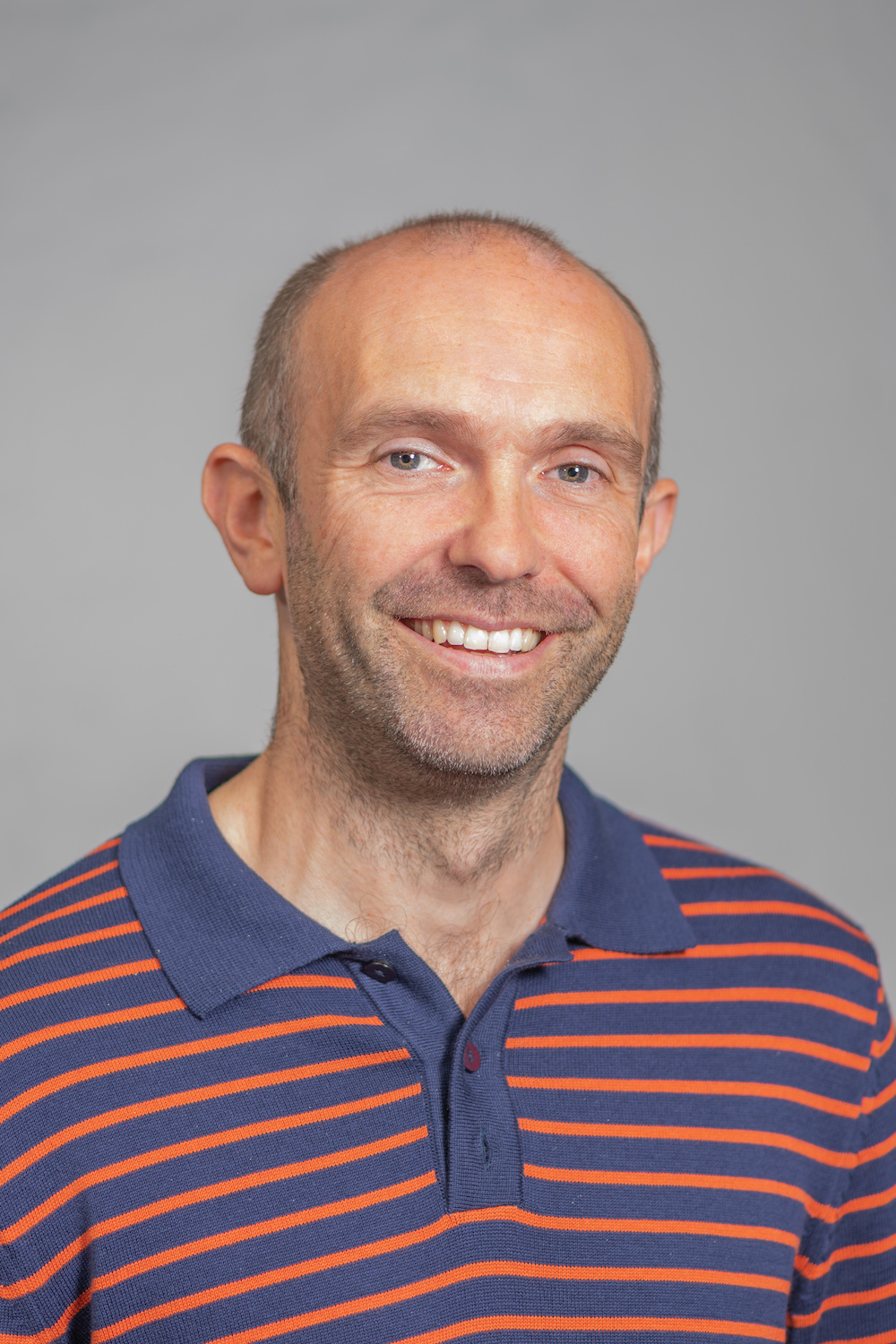 Director & Founder of Spike. I have over 10 years client side marketing experience, which gave me the inspiration to set our agency up to be a driving force in class leading, strategic marketing. I have a real passion for organic search, a constantly changing discipline within digital that when harnessed creates huge commercial gains.