Over the last year, Temu has gone from an unknown but cheap shopping app to a chart-topping powerhouse. The latest figures show why: the company is investing nearly US$500m every quarter into marketing and promotions.
This level of spend is eye watering and leaves one simple question: if the company's products are so cheap and their marketing expenses are so high, can its business model survive for the long haul? Let's take a look.
What is Temu?
Temu is a Chinese shopping app that has taken the internet by storm. It specialises in weird and wonderful items such as tongue scrapers and chicken-shaped lamps. However, it also sells everyday items such as cleaning products and storage tubs.
Temu says that it "is an online marketplace that connects consumers with millions of sellers, manufacturers and brands around the world with the mission to empower them to live their best lives. Temu is committed to offering the most affordable quality products to enable consumers and sellers to fulfil their dreams in an inclusive environment."
In many ways, Temu operates in a similar way to Shein. It offers a seemingly endless array of items that come directly from suppliers who make short production runs in response to customer interest.
However, while Shein directly contracts suppliers, Temu instead acts as more of a bridge. This means Temu manages product listings, marketing and logistics on behalf of the seller.
So, what's special about Temu? It's unfathomably cheap. Most items cost less than a couple of pounds, and seemingly expensive items such as smartwatches only cost £15. Meanwhile, a new shower head will set you back £3.50 and you can get a new pair of running trainers for less than £5.
Temu's history
Temu launched in the US in 2022. Since, it has expanded to Canada and several European countries, as well as Australia and New Zealand.
It has quickly become a market leader. It now tops app charts in multiple countries and has captured more than half the US market share of its closest rival, the fast fashion giant Shein. As a result, the total value of products sold on the site has gone from US$3m in September 2022 to US$400m in April 2023.
Temu's marketing strategy
The appeal of Temu is clear. At a time of high inflation, Temu provides a seemingly limitless range of products at very low prices.
But, the company's business model itself is incredibly interesting. This is because Temu is laser-focused on market share and does not care about breaking even.
In fact, the company is spending almost $2 billion a year to power its social media ads, display banners and paid search ads. All of this marketing activity is geared towards aggressively expanding its customer base.
Even on the site and in the app, Temu is marketing aggressively. Both are filled with promotions and offers in return for referrals, Meanwhile, the platform also tells users to 'shop like a billionaire'. On top of this, it also gamifies the experience with interactive prize wheels and reward systems, and exploits buyers' FOMO with countdown timers and rolling lightning sales and deals.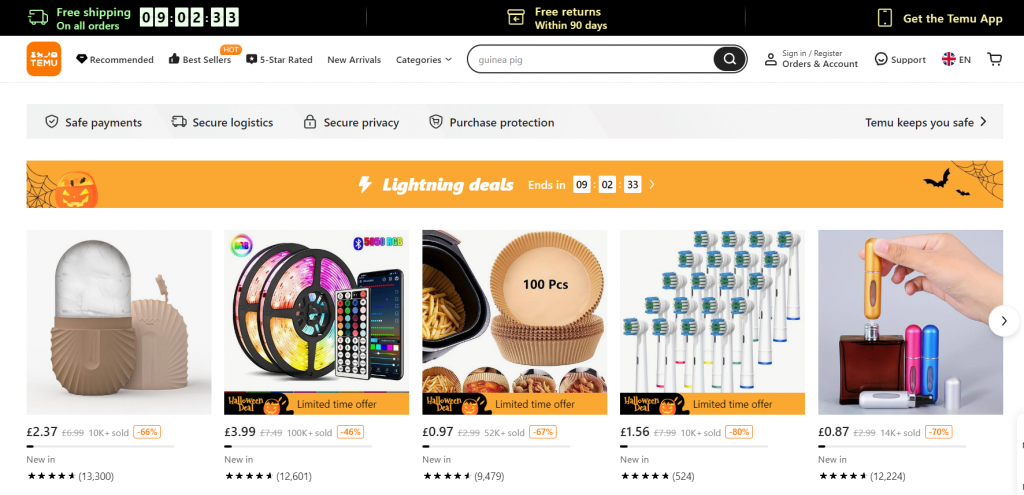 image of TEMU UK website
Is it working?
As the total value of products sold on Temu has gone from US$3m in September 2022 to US$400m in April 2023, it's clear that the company is effectively capturing market share and luring many customers away from rivals such as Shein. However, how long the company can maintain its current business model remains unclear. Particularly if it plans to continue spending nearly $2 billion a year on marketing.
On top of this, many individual customers remain unconvinced by Temu's approach. While some shoppers have used the referral rewards so successfully that they've managed to order numerous items without paying for anything, others believe that the company's website and app make the whole thing feel like a scam. Added to this, many who have used the site complain about the poor quality of the products they received, or that the shopping and/or delivery experience was poor.
But, Temu also faces far greater long-term challenges than a raft of suspicious or dissatisfied customers. For example, the company is currently engaged in a US-based legal battle with rival Shein. The two companies are currently suing each other in US courts over alleged antitrust activity.
While Shein accuses Temu of misleading customers into thinking they are the same brand, Temu accuses Shein of using 'exclusionary practices', including making its suppliers sign exclusivity contracts. Both companies have rejected the allegations against them.
Added to this, Temu is also in the crosshairs of US law enforcement, and the company has been accused of circumventing US anti-forced labour sanctions, as well as forcing suppliers into difficult conditions. Lawmakers also claim that Temu is using a logistics model that circumvents de minimis rules that require customs declarations, inspections and compliance for shipments above US$800. This strategy allegedly helps the company avoid import taxes and scrutiny on goods.
Similarly, back in June, a report by the US House Select Committee on the Chinese Communist party accused Temu of avoiding sanctions under the US's Uyghur Forced Labor Prevention Act (UFLPA), which restricts some Chinese goods linked to human rights abuses in Xinjiang. Some American senators remain concerned that the company is not keeping its supply chain free from slave labour.
Why does this matter?
The rise of both Temu and Shein has been astronomical. In the past couple of years, these companies have almost single-handedly changed the e-commerce industry.
Now, the two start-ups are responsible for 30% of all small packages that come into the US. As a result, thanks to Temu and Shein, everyone who is importing by air is paying higher prices due to the loss of capacity. Added to this, Temu's aggressive marketing spend has inadvertently driven up the costs of ads for everyone.
For now, it's important to remember that Temu remains a start-up, albeit an incredibly large one. But, whether it can maintain its low prices and global market share amid controversies and legal battles is a fascinating question.
After all, even if the company wins its legal battles and gets US lawmakers onside, it must focus just as much on customer retention as it currently does on attracting new customers if it wants to survive and ultimately thrive alongside companies like Amazon.
At present, Temu does not provide a shopping and delivery experience that many customers expect, and the company's products also fall short of expectations, particularly in relation to quality.
As a result, although the company could potentially be transformative in the current economic environment, Temu must soon start to foster organic repeat purchases. If it does not, then its current rate of subsidised growth will soon become untenable.
Tom Brook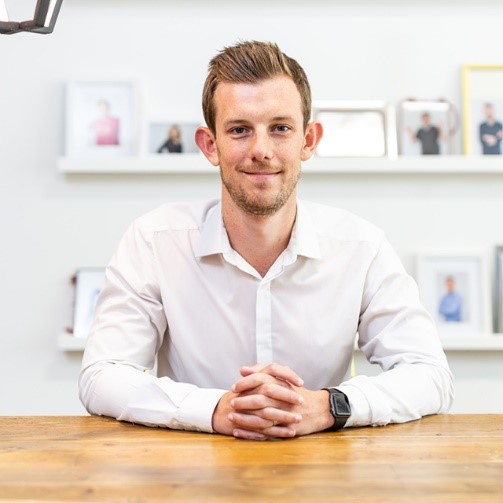 Tom is a freelance copywriter and content strategist with more than 10 years' experience in the digital marketing industry. During his career, he's worked at one of the largest digital marketing agencies in the UK and has provided work for some of the UK's biggest brands on a freelance basis.
When he's not crafting content, Tom's obsessed with all things sport, particularly football, cricket, golf and F1.