YouTube is unveiling a range of new products and features aimed at empowering creators of all backgrounds and experience levels to push the boundaries of creative expression.
The platform has always been a hub for creativity, and it continues to evolve with innovative tools and technologies to support creators. Here are the key takeaways from the "Made On YouTube" announcement:
1. YouTube Shorts Growth: YouTube Shorts, launched in 2020, has experienced significant growth, with over 70 billion daily views from more than 2 billion signed-in users each month. The platform is now introducing new tools to make it even easier for creators to bring their ideas to life through Shorts.
2. Dream Screen: YouTube is testing an experimental feature called Dream Screen, which enables creators to generate AI-generated video or image backgrounds for their Shorts by simply typing an idea into a prompt. This feature will allow for limitless creativity, from filming in outer space to exploring enchanted forests. It will be initially tested with select creators before a broader rollout next year.
3. YouTube Create Mobile App: Recognising that video production can be daunting for first-time creators, YouTube is launching the YouTube Create mobile app. Currently in beta for Android in select markets, this app offers video editing tools such as precision editing, trimming, automatic captioning, voiceover capabilities, and access to a library of filters, effects, transitions, and royalty-free music. The aim is to simplify video production so creators can focus on their creative ideas.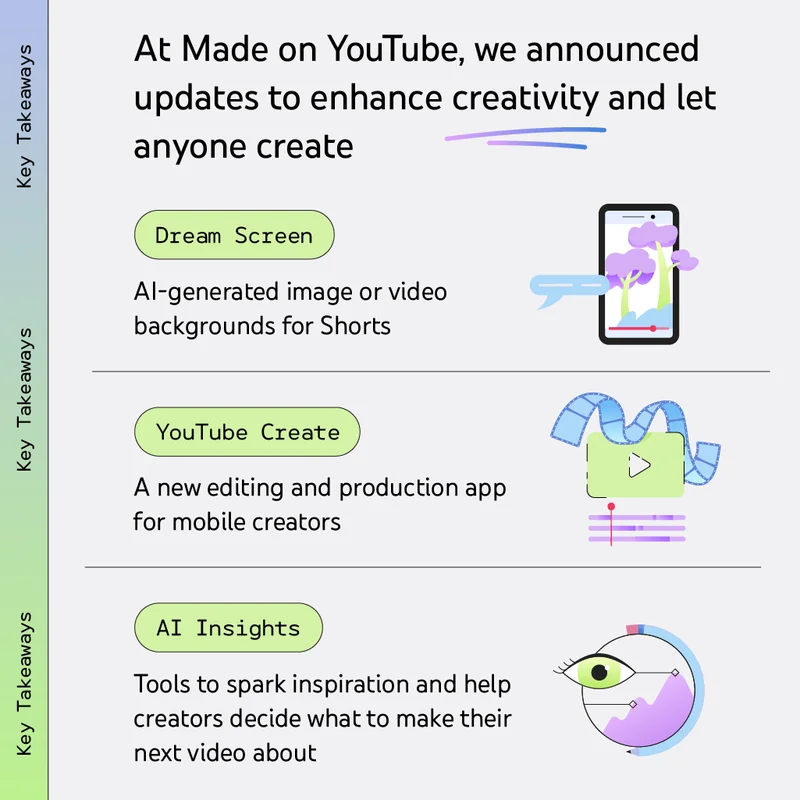 image courtesy of YouTube
4. AI-Powered Insights: YouTube Studio will use generative AI to provide personalised insights and draft outlines to help creators brainstorm video ideas based on what audiences are watching. This feature has been tested with creators, with over 70% reporting that it helped them develop and test video concepts.
5. Assistive Search in Creator Music: YouTube will introduce assistive search in Creator Music, allowing creators to find the perfect soundtrack for their videos simply by typing a description of their content. AI will suggest suitable music options at the right price.
6. Automatic Dubbing with Aloud: To help creators expand their global reach, YouTube is bringing Aloud, an AI-powered dubbing tool, to the platform. This feature will assist creators in dubbing their content into multiple languages, making it more accessible to a global audience.
Why does this matter?
YouTube is keen to provide its creators with AI-powered tools that simplify the video creation process, enhance creativity, and help them connect with wider audiences. YouTube is aiming to ensure it is in a strong position to continue providing content for its platform and this latest move into developing AI to improve quality and quantity is seen as a positive move.
Author spike.digital