TikTok has introduced a new feature called "Add to Music App," enabling users in the US and UK to save the songs they discover on the platform directly to their preferred music streaming services. This move comes in collaboration with major streaming platforms such as Amazon Music and Spotify.
TikTok, renowned for its role in music discovery and influencing streaming trends, aims to enhance user experience by allowing them to seamlessly transition from discovering a song on TikTok to enjoying it on their chosen music streaming service.
The Add to Music App feature is presented as a button labeled "Add Song" next to the track name at the bottom of TikTok videos in the For You Feed. When users click on this button for the first time, they are prompted to select their preferred music streaming service. Once chosen, the selected service becomes the default platform for future song saves. This integration streamlines the process of capturing songs in the moment of discovery and ensures users can easily access and enjoy their saved tracks on their preferred music streaming service at their convenience.
Upon selecting the Add to Music App option, the chosen track is saved to a default playlist on the user's preferred music streaming service. However, users have the flexibility to customise this by adding the track to either a new or existing playlist of their creation. The feature isn't limited to the For You Feed; users can also utilise it from an artist's Sound Detail Page, broadening its accessibility.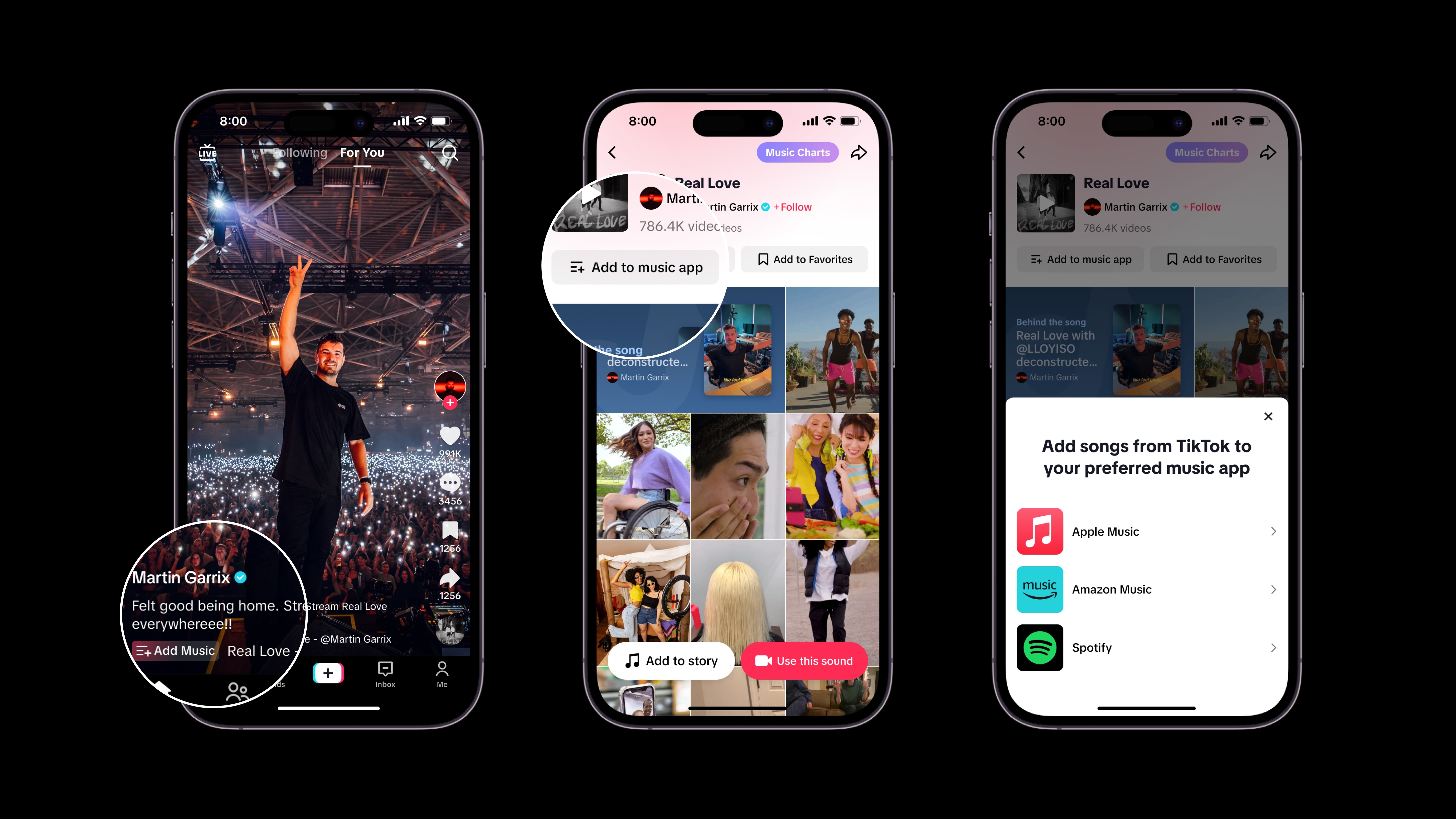 image courtesy of TikTok
This functionality marks TikTok's strategic move to further intertwine its platform with major music streaming services, capitalising on its influence in driving trends and discovery.
Ole Obermann, TikTok's Global Head of Music Business Development, said: "TikTok is already the world's most powerful platform for music discovery and promotion, which helps artists connect with our global community to drive engagement with their music. Add to Music App takes this process a step further, creating a direct link between discovery on TikTok and consumption on a music streaming service, making it easier than ever for music fans to enjoy the full-length song on the music streaming service of their choice, thereby generating even greater value for artists and rightsholders."
Karolina Joynathsing, Director of Business Development for Amazon Music, said: "Some of the best parts of being a music lover are those serendipitous moments when you discover a new song or artist that you connect with instantly. At Amazon Music, we're looking to make it easier to convert those moments into enduring fandom. That's why we worked together with TikTok on the Add to Music App feature, which makes it easier for fans to listen to the music they love and for artists to build fandom."
Why is this important?
By seamlessly connecting the TikTok music discovery experience with users' preferred streaming platforms, the Add to Music App feature aims to enhance user engagement and solidify TikTok's position as a significant player in the music discovery landscape. Users do retain the option to change their default music streaming service at any time through settings, providing flexibility and catering to individual preferences.
Author spike.digital