TikTok has become an Official Supplier of the Tour de France, marking the first time the popular social media platform has partnered with the historic cycling event.
Starting from July 1st, TikTok will offer fans a new and unique way to experience the race. The partnership aims to bring the Tour de France and the Tour de France Femmes with Zwift to a global audience, showcasing the talent and diversity of the riders and the regions they pass through.
With over one billion users worldwide, including 150 million in Europe, TikTok has set out its plans to engage its massive community in the love of sport and cycling. The Tour de France will be a platform to inspire the next generation of cyclists and share their collective passion for the sport. TikTok will highlight the beauty and cultural richness of the regions it traverses, inviting users to discover each stop on the tour using the platform.
TikTok users will have access to daily content on the official @LeTourDeFrance account, which already has over 317,000 followers.
In addition to content from the official account, fans will also find numerous videos created by teams, riders, partners, and other followers of the Tour de France. These videos can be easily accessed through the dedicated search page using the hashtag #TourDeFrance.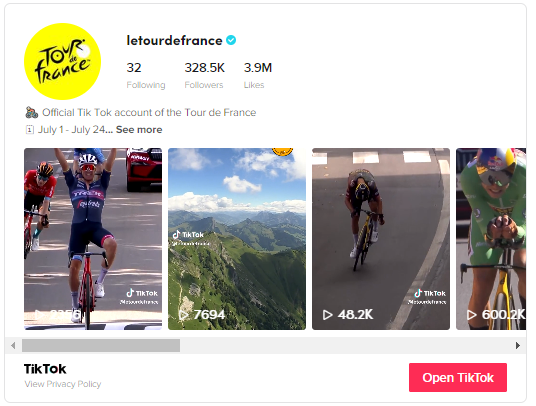 image courtesy of TikTok
Marlène Masure, General Manager Operations, TikTok France, Benelux, Southern Europe commented:
"We are extremely proud to be partnering with the 2023 edition of the Tour de France. The creativity of the TikTok community will bring an undeniably fresh perspective to both the men's and women's competition, as well as unrivalled visibility, along with the commitment and dedication of these extraordinary athletes!"
Julien Goupil, Media and partnerships director, A.S.O added:
"The uniqueness of the content offered by TikTok is a perfect match for the Tour de France's ambition: to make the event known everywhere, to everyone and with the spontaneous and creative eye of fans. The content created at the roadside will enhance existing coverage and bring the public together around the event even more widely."
Why does this matter?
TikTok continues to invest heavily in its sponsorship and partnership programme. With its focus on key Sports, Gaming, Cultural, and Music events is clearly aimed a cementing the brand and its media platform globally.
By collaborating with TikTok, the Tour de France aims to leverage the platform's popularity and engage a wider audience. The partnership will bring a new level of excitement and creativity to the race, complementing the existing coverage and fostering a greater sense of community among fans.
Author spike.digital