Facebook and Messenger are set to introduce broadcast channels, a new feature aimed at enhancing engagement between Page managers and followers.  Broadcast channels will serve as a one-to-many messaging tool, offering Page administrators, such as creators and public figures, an additional means to connect with their communities.
Broadcast channels are designed to enable Page administrators to foster a deeper connection with their followers. Admins will have access to features such as polls for instant community feedback, the ability to share behind-the-scenes content like photos and videos, and the option to use voice notes for more authentic expression.
The rollout of broadcast channels is currently in the testing phase, with full availability expected in the coming weeks. This feature will be accessible to all Facebook users, allowing them to join broadcast channels associated with their favorite Pages.
Here's how it works:
Page managers in regions where broadcast channels are available can create their own channels directly from their Page. For those in areas where this feature is not yet active, there is the option to join a waitlist and receive notifications when it becomes accessible.
Once a broadcast channel is established, followers of the Page will receive a one-time notification to join the channel. Only the channel creator can send messages, but channel members can react to messages and participate in polls. Notifications for new channel content will be sent to joined users, which can be muted if desired.
Some of the broadcast channels that users can join include:
Netflix, Jay Shetty, WWE, The Dodo, Hrithik Roshan, Shilpa Shetty Kundra, League of Legends, International Cricket Council, Goldmine Telefilms, and more to come.
However, it's important to note that broadcast channels are subject to Facebook's and Messenger's Community Standards, ensuring a safe and compliant environment. Users can report both channels and specific content for potential removal if it violates these standards.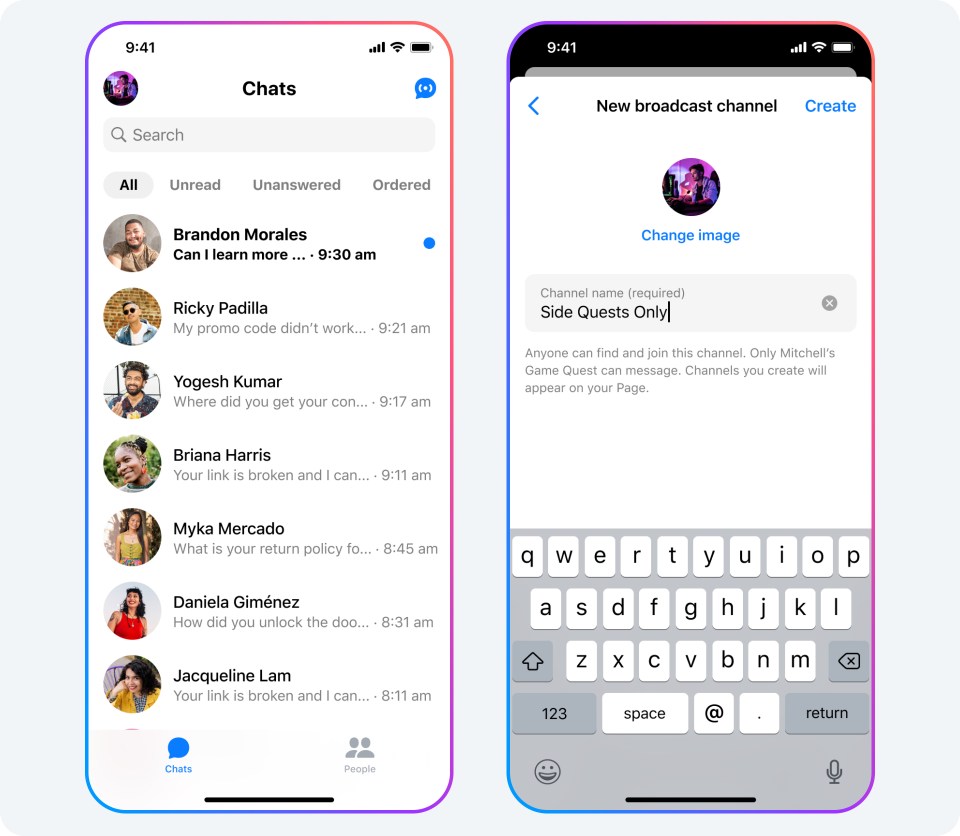 images courtesy of Meta
Why does this matter?
In terms of privacy and safety, broadcast channels are considered public and discoverable chat experiences, distinguishing them from private messaging on Facebook and Messenger. Facebook employs tools and reviewers to identify, review, and remove content that may breach Community Standards, often before it's seen by others.
In summary, the introduction of broadcast channels on Facebook and Messenger is set to provide a new means for Page administrators to engage with their followers, offering features like polls and voice notes. While in testing, this feature will soon be accessible to Facebook users, allowing them to join their favorite Pages' broadcast channels. Safety and privacy measures are in place to ensure a secure environment for users.
This announcement marks a real pace of product development after Meta also announced that WhatsApp is introducing a new feature that allows users to have two accounts logged in simultaneously, which is particularly useful for managing work and personal accounts without the need to constantly log in and out or use multiple devices. To set up a second account, users will need a second phone number and SIM card, or a phone that supports multi-SIM or eSIM. This feature can be accessed through WhatsApp settings by selecting "Add account," and users can manage privacy and notification settings for each account independently.
Author spike.digital