Google has invited U.S users to test the first Google 'Magi' experiment, where generative AI will take prominent positions in Google's highly used and famous search engine results pages (SERPs). The search engine industry waited with bated breath during yesterday's Google's 2023 keynote, as the search engine giant looks to assert itself as the leader of search innovation due to the explosion in artificial intelligence.
The approach from Google is tentative. They are keen to emphasise in this announcement and in the test SERP that this is an 'experiment'. This is partially as they will be increasingly under the microscope for any AI responses and currently seem continually being in OpenAI's shadow. However, Google also announced their latest large language model update: PaLM 2, which will power Bard. Bard is also a waitlist-based experiment – Google will accrue data and look to close the gap with Bing & ChatGPT.
So, lets take a look at what's changing.
Informational queries: the AI rich snippet
Let's take a look at the existing SERP for 'How long to spend at Bryce Canyon with kids?' Above the fold, there is a small featured snippet of text with one clear citation link. This is accompanied with 'People also ask' expandable regions of related questions and the answers held within each expandable have citation links to where the content came from.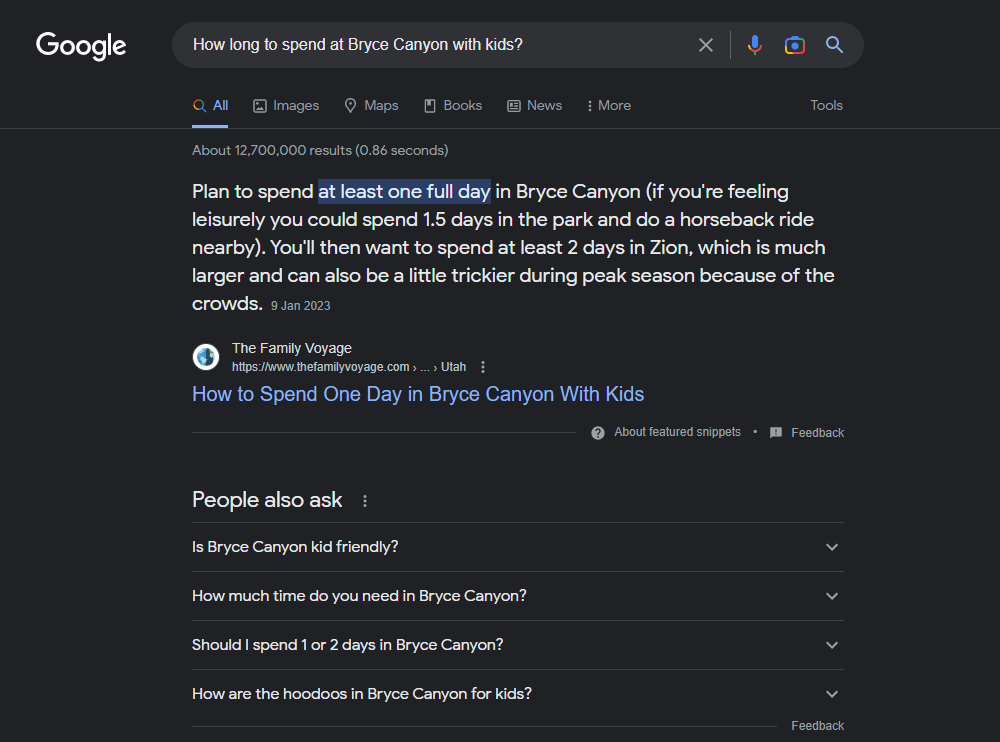 From Google's blog, they show this exact query and give us an illustration of what an informational query might look like. We are given a large 'Generative AI is experimental' section with an extended AI answer. From there, the user can continue a journey with the AI with follow up questions or conversation. Google overlays a right hand sidebar that has 3 links with images. There is a set of 'standard' listings beneath the 'AI snippet'.
Steve Bailey – Director of SEO Training at Spike commented, "AI is likely to have a profound impact on search. It may entirely change the search results we see and how content is surfaced. Both Microsoft and Google are taking similar steps with introducing AI into simple areas such as featured snippets but this is clearly only the beginning. Online businesses will have to adapt quickly to these changes with some revenue models under greater threat than others."
Transactional queries: integrated AI assistant with Shopping Product listings
I was keen to take a look at a developed search that is shown on Google's AI search engine announcement, where 'ebikes in red for a 5 mile commute with hills' leads to a more punchy head term in 'ebikes in red'. Currently, the SERP has the Google Shopping carousel, image based search results which take you into a mix of sponsored/organic image results and then we're into 10 blue links territory – over the years, perhaps a search like this have typically given us a mix of category/sub-category listings.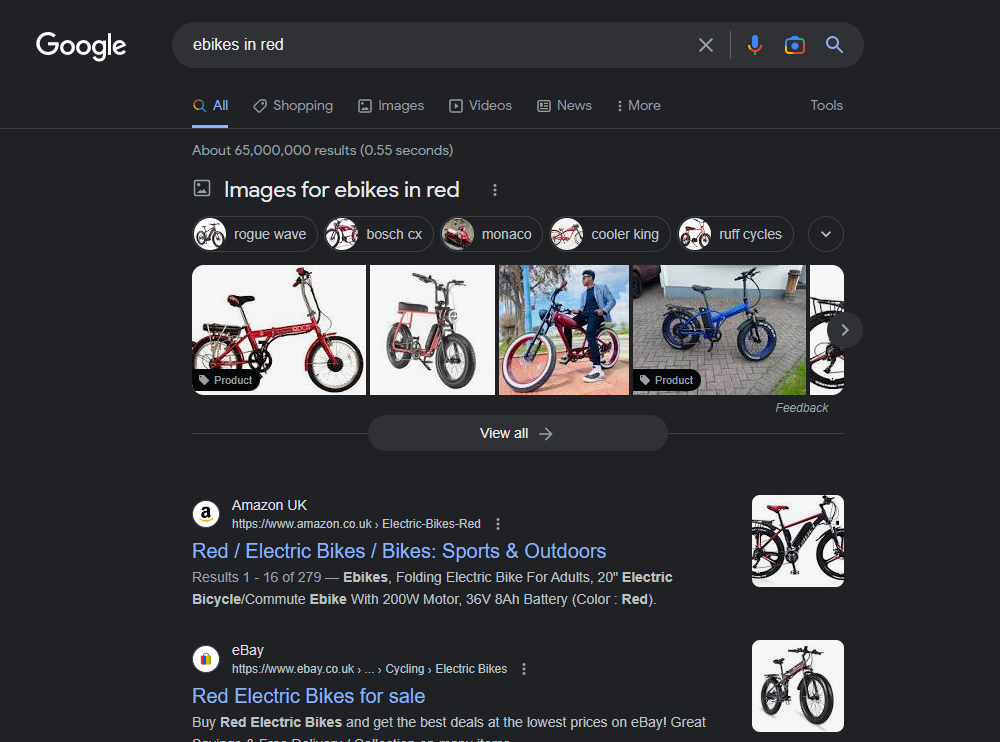 Shifting into 'Generative AI is experimental' world and we can see Google go with a very light touch snippet of text and then we are straight into product results and thought leadership style content in the right hand sidebar. It's almost incomparable because 'AI assistant' mode is most definitely a different user experience that OpenAI (via ChatGPT) have pioneered for the masses. However, this is a deliberate illustration from Google that shows ecommerce webmasters that their transactional based traffic will be maintained.
Tom Nelson – Head of SEO at Spike added, "The announcements from Google yesterday show they certainly think the direction of travel is towards AI and they want to be in the driver's seat. I think everyone in the industry was surprised to see Google get caught flat-footed when ChatGPT joined forces with Bing, and this looks like a big attempt at rectifying that.
Looking at the new SERPs it is going to be an interesting and potentially difficult few years for webmasters as everyone tries to get to grips with how AI search results will impact their traffic and more importantly their online revenue."
Why Does This Matter
It has been a volatile year for big G; they've been forced to a quicker trajectory of change in their most valuable commercial entity: their SERP.
The direction that search engine tech from Google & Bing with the co-pilot concept is interesting, it's pretty much an extension of personalised search with things like Google Discover. The feeling in the search industry is that some areas of the web that have seen decreases in clickthrough rate (CTR) in the past will continue to see things slide. Whether it is product reviews sites or conversational/question-led queries – I expect Google to manage this change gently. The preliminary user interface (UI) concepts look good – it will be fascinating to see if Google can deliver on the customer promise of 'being the best' in the area of AI search.
Duncan Colman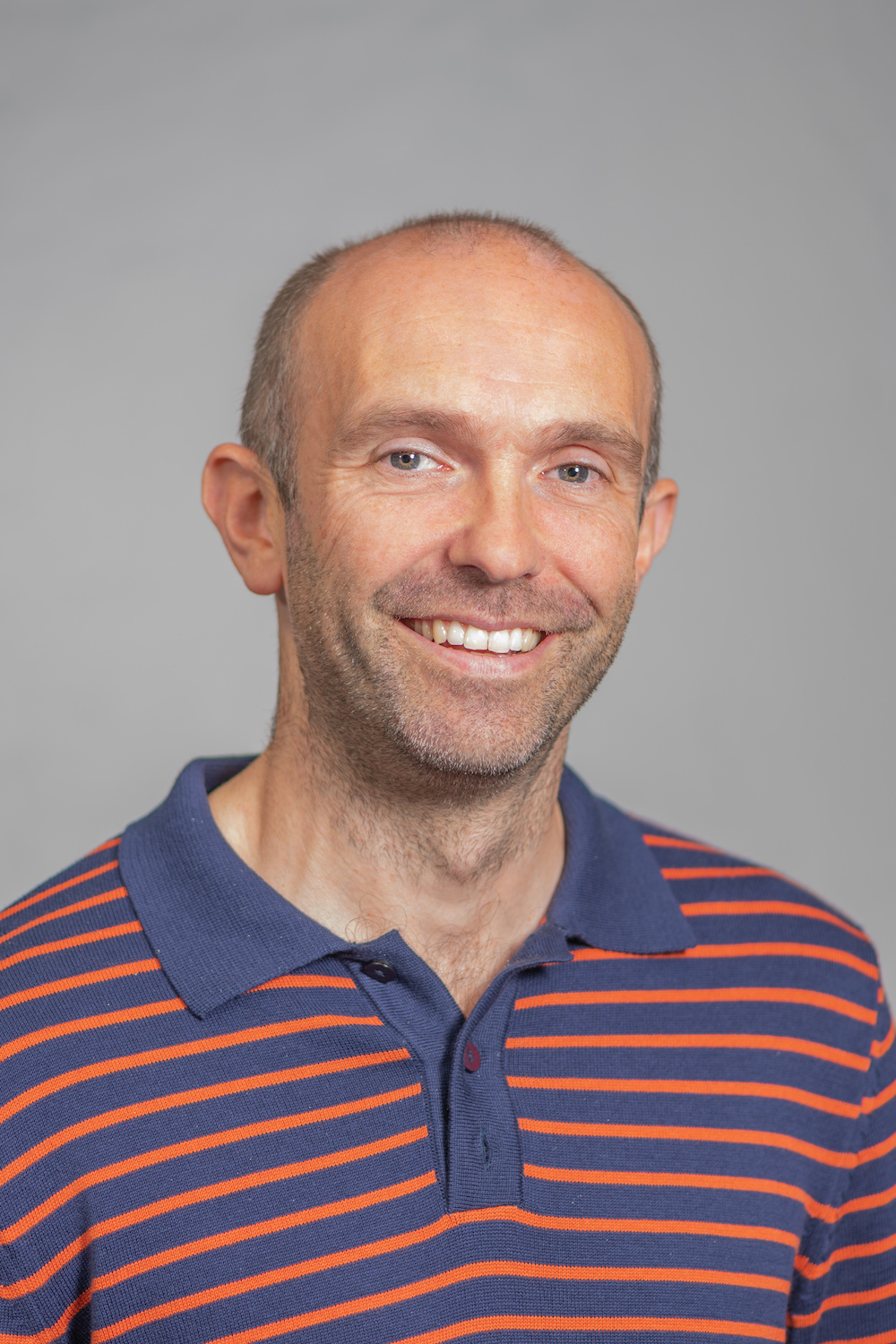 Director & Founder of Spike. I have over 10 years client side marketing experience, which gave me the inspiration to set our agency up to be a driving force in class leading, strategic marketing. I have a real passion for organic search, a constantly changing discipline within digital that when harnessed creates huge commercial gains.