Google and Salesforce expand their partnership to improve AI service offerings – what are the wider implications for CRMs and workflows?
Google and Salesforce have announced that the two businesses are expanding their current partnership with the aim of delivering a new era of business productivity that will be powered by generative AI. The move, which was announced earlier this month, will bring together two very large ecosystems of data and make it much simpler and easier for customers to get value.
This expansion of the 'strategic partnership' between the two businesses aims to 'deliver new bi-directional integrations that allow customers to bring together context from Salesforce and Google Workspace, including Google Calendar, Docs, Meet, Gmail, and more, to power generative AI experiences across platforms.'
The companies believe that the move will help their clients fully harness the power of AI and allow them to understand their customers better than they ever have before. If deployed correctly, the partnership will undoubtedly help businesses utilise both data and AI to deliver more holistic customer data strategies and drive personalised customer experiences.
The move marks Salesforce's next step on its journey to become a 'data company'. It's also the company's latest investment in the broader generative AI ecosystem. As for Google, the renewed partnership with Salesforce puts its big data analytics and AI services at the front of the partnership. This is significant for Google, as Salesforce has a customer base of over 150,000 organisations.
What will the expanded partnership allow customers to do?
 Thanks to greater integration between the companies, users will be able to seamlessly work across platforms through generative AI assistants, Salesforce's Einstein Copilot, and Google Workspace's Duet AI.
Customers can use their own account, contact, and opportunity data from Salesforce to generate customised Google Slides and Docs. Meanwhile, Google Meet summaries and context from Gmail and Google Calendar can be brought into Salesforce to update records and trigger workflows, such as saving a signed contract to Salesforce and closing the opportunity with a win-loss report generated in Docs.
In a memo, Salesforce provided an example of how the partnership will help customers. They used the example of a fashion retailer who would now be able to combine CRM data like customer purchase history and service interactions with non-CRM data, such as social media sentiment, to deploy a custom AI model that could accurately predict each customer's likelihood to buy a certain type of clothing.
Alternatively, they believe that a financial institution could combine CRM and non-CRM data with an AI model to anticipate a customer's spending habits and investment preferences.
The integration is expected to begin a pilot stage in mid-2023 and be fully functional by the end of 2023.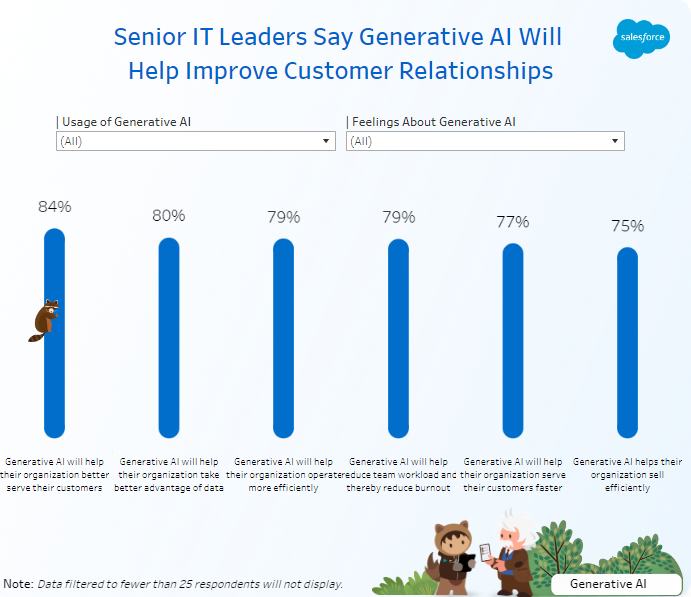 image courtesy of Salesforce
Why are Google and Salesforce enhancing their partnership?
By expanding their partnership, the two tech giants hope that they can drive increased productivity for customers via the benefits offered by generative AI. This will be achieved by providing customers with the right data and context at the right time, and unlocking generative AI benefits in the flow of work.
At present, the companies claim that generative AI is reshaping the way that businesses are operating. Their studies have shown that 77% of senior IT leaders believe generative AI will help their organisation serve customers faster, and 64% of businesses expect AI to increase their workforce's productivity in the coming years.
Google and Salesforce hope that customers will receive the following benefits from their expanded partnership:
The ability to generate personalised content across Google Workspace and Salesforce
With new integrations, customers will be able to generate personalised and contextualised Workspace content, including emails in Gmail and content in Google Docs. Users will also be able to seamlessly access relevant Salesforce information on prior meetings, customer interactions, and sales outcomes, without switching platforms.
The ability to keep Salesforce records up-to-date with context from Google Workspace
New integrations will also allow users to leverage Google Workspace data to automatically keep Salesforce records up-to-date. This will drive productivity, as it will eliminate the need for many simple tasks to be completed manually.
The ability to automate tasks and follow-up actions
Leading on from the above, users will also be able to automate many processes. They will also be able to eliminate the need for context switching by automatically generating interaction and meeting summaries, scheduling follow-ups and assigning tasks, and more, based on context from Salesforce and Google Workspace.
For example, after a successful sales call, a user will be sent a summary from Google Meet. This will trigger the assignment of tasks to owners in Salesforce. It will also automatically schedule follow-up meetings in Google Calendar and move a deal stage to 'closed'.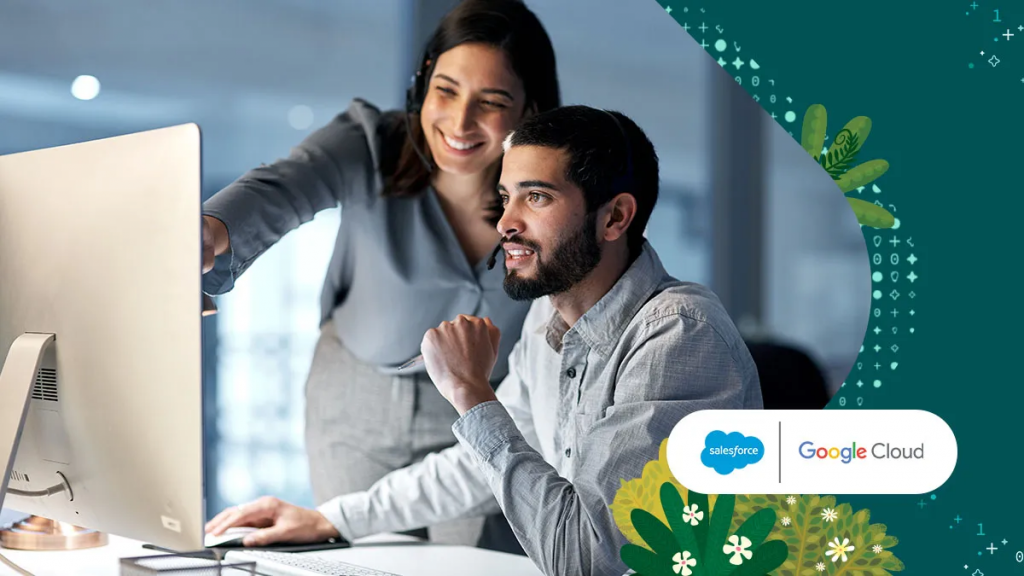 image courtesy of Salesforce
How will the partnership work?
With this partnership, Salesforce will become the first partner to integrate with Google Workspace's new Duet AI extensions framework. Simultaneously, Google Workspace will become the first extensibility partner for Salesforce's new Einstein Copilot. Einstein Copilot will also be able to access relevant context in Google Workspace to enrich workflows across sales, service, marketing, commerce, and more.
On this point, the two companies are also keen to stress that the integrations are backed by the robust privacy and user data protections already in place across Salesforce and Google Workspace.
In addition to Google Workspace integrating with Einstein Copilot, Google and Salesforce have announced that customers will also be able to bring their LLMs deployed on Vertex AI, including Google's PaLM family of models, and use them within the Einstein 1 Platform to build generative AI-powered experiences across the Customer 360.
This move builds on the partnerships announced earlier this year between Salesforce Data Cloud, Google BigQuery and Google Vertex AI.
Why does this matter?
This partnership between Google and Salesforce is incredibly interesting, as it is a great example of how big businesses are now coming together to harness the power of AI and provide value for customers.
Through generative AI and increased cooperation, it appears as though Google and Salesforce are creating innovative integrations that will allow businesses to automate processes at scale.
This will allow previously manual tasks to be automated. As a result, lots of different processes will become more powerful and efficient. This is because customers won't need to switch platforms just to manually input data. Instead, companies will be able to locate data in a single space. As well as saving time and money, this will also reduce security risks.
In addition to this, the new partnership will also make it easier for companies to market to their customers. After all, although many businesses currently try to use customer data when making decisions, most either use data that is too complex to understand or data that is in too many different sources to be easily accessed. But this partnership changes that, as it essentially takes customer data that already exists across multiple platforms and streamlines it into a central location, creating a single unified customer profile.
Through the use of AI specifically, complex data will be converted into digestible information. On top of this, that information will then also be used to predict what other products a customer might want or need. Due to this, with the help of these new tools, a company could more accurately predict new products a customer may want to buy.
As a result, it's not hyperbolic to suggest that this deeper relationship could revolutionise the way that many businesses both engage with CRMs and design/allocate workflows. This is because the partnership between the two organisations will save so much time and effort. These savings will almost certainly help many businesses unlock greater value and deeper insights from their data, and will fundamentally change how people work.
Tom Brook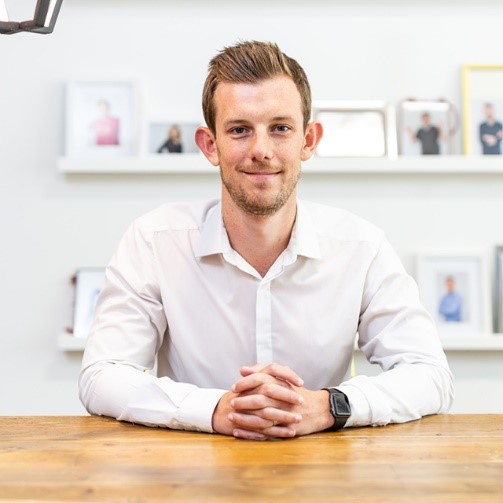 Tom is a freelance copywriter and content strategist with more than 10 years' experience in the digital marketing industry. During his career, he's worked at one of the largest digital marketing agencies in the UK and has provided work for some of the UK's biggest brands on a freelance basis.
When he's not crafting content, Tom's obsessed with all things sport, particularly football, cricket, golf and F1.