Happy Pizza Day from Spike!
Across the globe, people will be debating what toppings to go for on their slab of pizza. Our local SEO team (as wild as they are!) were keen to understand which Pizza brands hold the top Google Business Profile positions based on 150 different sets of coordinates in the local results of Google US & UK. Let's jump into their findings.
Top Google Business Profile 'pizza' rankings (UK)
Pizza Express had the highest number of top 3 positions when we conducted the 'Pizza' keyword ranking analysis in the UK, with 50 major cities used as the coordinates for regionalised results. Papa Johns and Pizza Hut both had 7 top 3 positions. Domino's Pizza had 4 top 3 local positions in Google UK and Fireaway had 3 top 3s.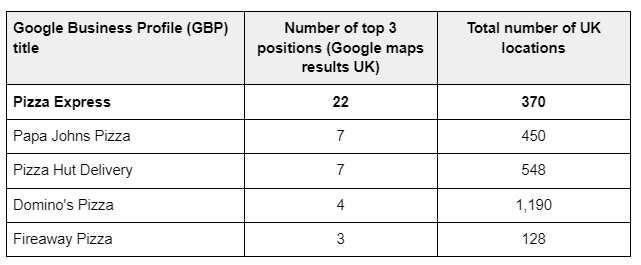 Again, the independent pizza companies perform well, with 70% of top 3 positions in Google UK attributed to Google Business Profile titles outside of the top 5 above.

Average (Google.co.uk – UK) GBP review rating / average number of reviews
In Google UK, the Google reviews ratings and reviews picture is slightly different. There is definitely something that you could label as a correlation but notably both positions #1 and #2 have higher than average ratings and number of GBP reviews.
Top Google Business Profile 'pizza' rankings (US)
We used our internal rank-checking app to see which brands ranked most commonly in the top 3 of the Google maps listings for the keyword 'pizza'. This keyword was then checked with 100 major cities to see how well pizza delivery companies performed when Google detects each respective location. 
We found that Pizza Hut was the Pizza brand with the highest number of top positions in Google's local maps results (29), with Domino's Pizza narrowly behind with 26 top 3 positions. Papa Johns Pizza were third in this analysis, with 21 top 3 positions.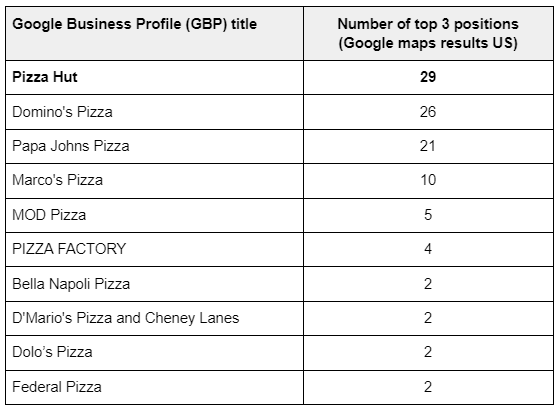 Google gives independent American pizzerias plenty of local SEO visibility
Notably, only 33% of top 3 local results positions were taken from the top 10 brands shown above. 

Average (Google.com – US) GBP review rating / average number of reviews
In some areas of local SEO, we have observed what looks to be a correlation between the volume of Google reviews and the higher positions. This does not look to be the case with 'Pizza' in either the volume of reviews or the average ratings.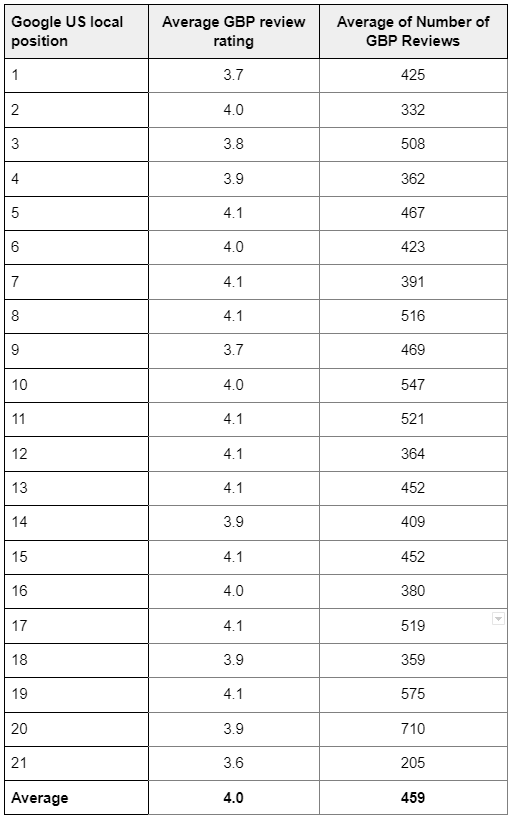 Summary
Across the US and UK, Google's top 3 local positions show independent pizzerias 60-70% of the time. This points towards other key ranking factors of proximity and relevance when someone is searching for the keyword 'Pizza'. Local listings are a massive source of revenue for pizza delivery companies and pizzerias. It is fantastic to see hyperlocal companies rank well across the 150 cities analysed in this exercise and we will take a look at how this space develops for Pizza Day 2024!
Footnotes
These metrics were generated via Spike's search intelligence application, with spot position checks in Google executed at 2pm at a local level. Local results have a degree of fluctuation, with factors such as personalisation and time of day affecting data accuracy.
Author spike.digital